Xtreme Optimist
Class Home
Class Links
Specification
Library

Purchase Now

---
Xtreme Services
Boat Building
Boat Repairs
Chandlery
Regatta Support
Shipping
Technical Support

ISAF News
Griselda Khng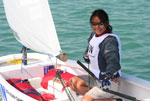 current IODA World Champion- Female and second runner up overall. ASEAN Optimist Champion, Team member IODA World Teams Racing champions.
Griselda
Chooses Xtreme Sailing Products "Xtreme Black" Optimist.
Optimist
Designer: Clark Mills
Design Year: 1947
| | | |
| --- | --- | --- |
| Length Overall | 2.31 m | 7.6 ft |
| Hull Weight | 35 kg | 77 lbs |
Designed in 1947, the Optimist Dinghy is the only sailboat designed specifically for children, allowing them to learn the essentials of sailing without danger or fear. It is also the largest and fastest growing racing class in the world with over 110,000 hulls built worldwide.
Why choose the Optimist? With the Optimist, your investment is protected. It is the only dinghy recognized by ISAF exclusively for children under 16 years of age. With the Optimist, you also get great organizations like USODA and IODA to help you up every step of the way. Over 50% of Olympic sailors at Athens sailed Opti's.
Your Optimist dinghy can move with you too. With 10,000 boats in the USA and 300,000 worldwide, you can find Optimist fleets just about anywhere and more and more fleets are on the way.
The Optimist has become the most popular youth sailing boat in the world today. It is safe and stable because of its hard chine design and small sail area, making it the ideal sailing school boat. Overall, the safe design of the Optimist just about guarantees that a beginners sailing experience will be a positive one. This encourages a higher percentage of children to finish the program, then go on to fully enjoy the benefits of recreational and competitive sailing. Children love the Optimist because they feel confident when sailing as it is very resistant to capsize. They can relax and enjoy themselves. The boat is both kid-friendly and coach-friendly.
The Optimist as a Racing Boat
For the reasons given above: stability, safety and simplicity, the Optimist is also a great racing boat, offering multiple levels of competition for all ages up to the class maximum of 15. There are over 400 Optimist regattas just in the USA each year. With so many Optimist sailors and so many Optimist events, there's no limit to the number of events that a skipper can participate in.
---
Xtreme Fleet
29er
29erXX
420
Access 2.3
Access Liberty
Byte
Byte C2
Cadet
Canoes/Kayaks
Capricorn F 18
Club 420
Optimist
Skud 18
Tasar